We provide a qualified and unbiased valuation for boats of various sizes and styles. During our inspection, we take into account the overall integrity of the boat. We examine the layout from the inside and outside, and create an inventory of its equipment.
To make the valuation as accurate and thorough as possible, we also consider areas where expenditures may be incurred. In some cases, especially if you're putting up your boats for sale, it would be in your best interest to have boat defects repaired before you get a valuation.
During the inspection, we also ask pertinent questions about the vessel. Queries typical center on the history and other specifications of the boat. Having complete information on the vessel is required to ensure that proper valuation. Our boat valuation service is founded on decades of relevant marine experience and commitment to high-quality service.
The NZ Marine Valuations Proposal/Contract for Valuation is a written document where we can begin to acquire information regarding your vessel. It will allow us to get the specifications of your boat and the purpose of the valuation.
Conversely, the proposal/contract will also provide you with more details on our work. It details the scope of our work, payment details, and our Registered marine Valuer, Ian Walker. The valuation provided will be according to the guidelines of the Property Institute of New Zealand (PINZ), and comply with the standards of the International Standards of London.
We pride ourselves on the high-quality boat valuation service we provide. If you're looking to get your vessel's valuation, contact NZ Marine Valuations.
18 February 2019
To: NZ Marine Valuations Limited
To Whom it May Concern,
We routinely and regularly use Mr Ian Walker from NZ Marine Valuations to perform valuations on our floating plant portfolio. We find Ian to be incredibly accommodating and knowledgeable, often travelling to locations that others want to visit to inspect components of our fleet. I would have no hesitation or issue recommending Ian and NZ Marine Valuations.
Kind Regards,
Scott Fickling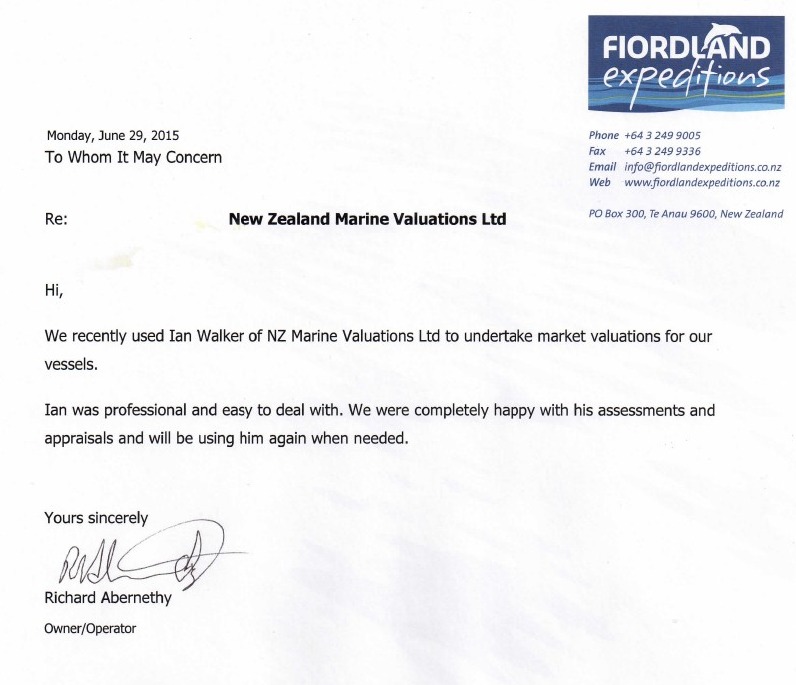 From the moment I made contact with Ian Walker I had an instant response and a totally professional approach. My valuation was delivered on time and on Budget. And would recommend him to anyone wanting a boat valuation.
Director Grant Clothier

Stella Shipping LTD

Manager

Fairway Bay Marina
NZ Marine Valuations provided an expedient, very knowledgable and accurate valuation which was accepted without question from the lender. It was a pleasure to deal with Ian from the outset and I will use their services again. Thanks Ian!
Jack Harris
21 March 2017.
To: NZ Marine Valuations Limited
To whom it may concern.
Ian Walker recently completed a quite complex desktop valuation for my self-build yacht. I found Ian thorough, professional and helpful in all my dealings with him. I, therefore, would have no hesitation in recommending his services.
Howard Bennett
We're proud to have been working with Ian for a number of years. His report detail is outstanding and with years of experience we're always more than happy to refer our readers directly to Ian.
Keith
Thanks Ian, pleased to have met you. Appreciated your prompt service, I must have caught you at the right time. The Current Market Valuation was well received by the Insurance company, enabling my pride and joy to be correctly insured. I was amazed at your depth of knowledge on the back ground of Stead Craft boats and my model in particular.
Peter Henderson
Ian has always been able to turn around requests for valuations quickly and he has a wealth of knowledge around most vessel types to leverage from.
Brendan Hearle
Very reliable and professional job, made in record time. We will use for more jobs Marine Valuations Ltd in the future without hesitate.
Nuno Neves